GSE Bilingual School Psychology (Adv Cert)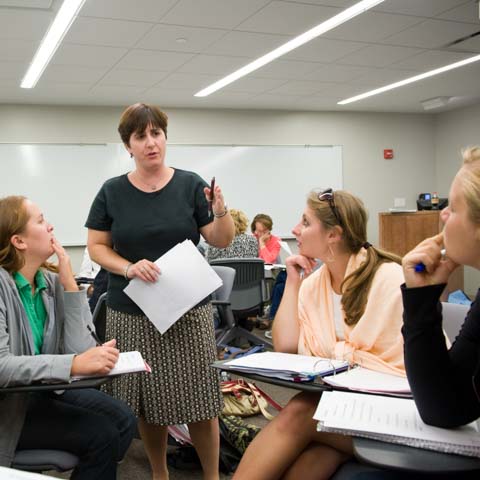 Degree: Advanced Certificate in School Psychology with Bilingual Extension
Credits: 66
Career Path: Certified School Psychologist with the Bilingual Extension
Start Semester: Fall
Campus: Lincoln Center
Full-time/Part-time
The Bilingual School Psychology (Adv Cert) program prepares students to work as practicing school psychologists and leads to NYS certification and eligibility for National Certification as a School Psychologist (NCSP). The program offers training to prepare school psychologists who are bilingual with a specialty in working with children and families of limited English proficiency, and is fully approved by the National Association of School Psychologists.
The program is fully approved by the National Association of School Psychologists.
The program builds on an undergraduate foundation in psychology, including a minimum of 66 graduate credits, and requires a one-year supervised internship.
Application Deadline
Fieldwork Requirements
Completion of three practica and a one year supervised internship.
Practica
Each practicum requires students to complete a minimum of 150 hours of supervised fieldwork, in schools, clinics, and hospital settings, learning and honing their skills in consultation, counseling and assessment of children and adolescents.
Clinical Practicum: supervised experience in counseling/clinical intervention with children and youth
Consultation Practicum: supervised experiences in school-based consultation
Integration of Assessment Techniques: supervised experience in psycho-educational assessment (Many students complete this practicum in The Rosa Hagin School Consultation and Early Childhood Centers at Fordham University.)
Internship
Students complete a full academic year (1,500 hours), supervised internship in a school as a culminating experience once their coursework is complete.
Program Curriculum
Browse course schedules and descriptions and review a list of courses. Review a sample course sequence below.
SAMPLE COURSE SEQUENCE
Principles of Bilingual Education or Second Language Acquisition and Assessment
Seminar in the Psychology of Bilingual Students
Multicultural Issues in Professional Psychology or Consultation With Families in a Diverse Society
Non-Biased Assessment and Decision-Making or Advanced Assessment Seminar: Bilingual Assessment
Plus one of the following fieldwork courses:
Clinical Practicum in Bilingual School Psychology
Consultation Practicum in Bilingual School Psychology
Advanced Intervention Seminar: Bilingual Intervention (Intervention project required)
Total Credits: 15
Extension Program Options
Students who enter the School Psychology BiPD program without a related master's degree will need to complete one along with the BiPD in order to be permanently certified by New York State as a School Psychologist.
Contact
Gainful Employment Disclosure