Degree Options: Major Only
Locations: Rose Hill
Visit the Gabelli School of Business
Manage $1 million of Fordham's money—and study St. Augustine. Get an uncommonly well-rounded business education.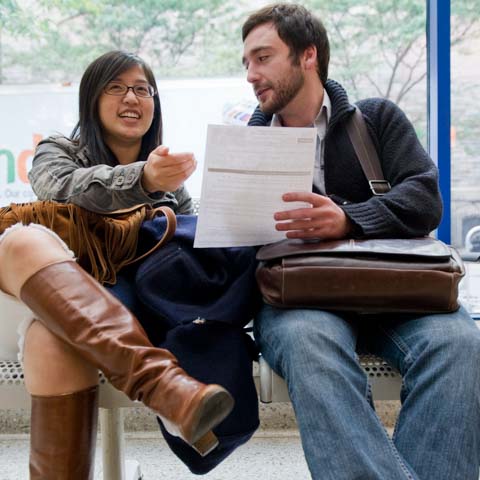 Entrepreneurs pursue innovative ideas through unbridled commitment. Accountants keep businesses honest. Marketing executives craft campaigns that excite consumers. What do these disparate careers have in common? A rock-solid educational foundation: a degree in business administration.
The Gabelli School of Business is considered one of the top business schools in the U.S. for a reason. (For a lot of reasons.) Our dual core curriculum—half business, half liberal arts—makes Fordham business graduates unique: knowledgeable about global commerce, but also keenly aware of the human factor in every deal.
You will study with business leaders and moral thinkers. Global content is woven into each course.
Our business classes will have you managing $1 million of Fordham's money, importing and marketing artisanal goods from Africa, and traveling to other continents to meet the people behind the supply chain.
Our liberal arts classes will have you studying the philosophy of St. Augustine, English classics, and the fine arts.
College is your time to develop a portfolio of professional and personal assets. The professional: knowledge, skills, and experience highly valued in our global economy. The personal: strong values, self-awareness, concern for others, and an inner drive for excellence that will serve you throughout life.
We prepare you to take a leading role in business—and have a fulfilling life outside of work.
The Business Administration major is paired with a primary concentration in:

Accounting
Business Economics
Entrepreneurship
Finance
Information Systems
Management
Marketing
Social Innovation

There are also a variety of secondary concentration options to choose from, if desired.

Select Programs

Student Managed Investment Fund: Manage $1 million of Fordham's endowment in a global portfolio in a course taught by finance professor James Kelly. In recent years, the fund has beat the benchmarks in stocks, bonds, and commodities.

Local Consulting Program: Act as a pro bono business consultant. Improve the efficiency of a local hospital. Devise a strategy to attract students and funding to a charter school. Develop and deliver a professional-caliber business presentation to your clients.

Global Business Honors Program: Delve into a rigorous, in-depth international business curriculum that includes macroeconomics, information systems, and financial management. You'll go to London in your first year and countries such as Argentina, Chile, and China in later years.

Fair Trade Program: Get hands-on, real-life experience in commerce with a conscience. You identify, import, market, and sell global Fair Trade products in the U.S. Visit artisans on three continents to see firsthand how the Fair Trade model promotes social justice and the environment.

Internships

World-class internships at top global companies in every industry are just a subway ride away.

More than 90 percent of business majors have at least one internship at Fordham, and many graduate with four or five on their resumes. Companies include:

Goldman Sachs
Sumitomo Mitsui Banking Corporation
KPMG
Ernst & Young
MTV/Viacom
Lord & Taylor

More than 75 percent of Gabelli graduates who got job offers before graduation reported that their internship led directly to the full-time spot.

Take your coursework global with a study abroad program. Fordham has connections with more than 150 programs in universities all over the world, including Germany, China, Turkey, Argentina, and the Gabelli London satellite campus.

Information Systems I and II
Principles of Management Accounting
Legal Framework of Business
Statistical Decision Making
Operations and Production Management
Strategy I and II
Philosophy of Human Nature
Basic Macroeconomics
Math Methods: Finite
Philosophical Ethics
Art History, Music History, Opera

Our globally minded education in a global city prepares you for a range of business careers. Gabelli graduating classes rank among the top five in the nation in starting salary.

But it's not just about the money. Our graduates report significant career fulfillment. Their work has meaning, because they make it matter in the world.

Our Personal and Professional Development Center staff will help you figure out the right route for you. We'll shape your accomplishments so far—academic experience, internships, study abroad—into a portfolio that will catch the attention of companies from global giants to local landmarks.

Want to be an analyst Credit Swisse? An associate at KPMG, one of accounting's Big Four? An account executive at the advertising powerhouse BBDO? Those are a few of the paths recent graduates have taken.

The possibilities are endless. Some you may (not) have thought of:

Alternative investments
Entrepreneurship
International business
Sports business
Sustainable business
Value investing

You also get access to our powerful (and Fordham-loyal) network of alumni, who want to see you succeed as they have. Many alumni have started their own businesses in industries ranging from financial management to sustainable energy.
Business Administration Degree