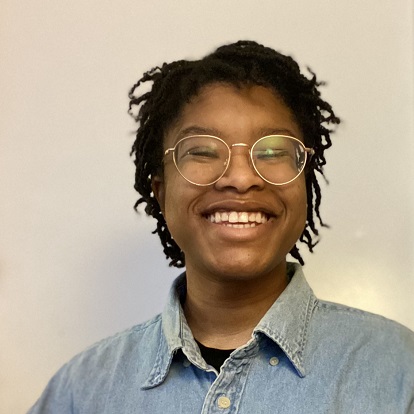 Major: Film/TV and English (Creative Writing)
Bio: Daejah Woolery (she/they) is a senior graduating from the honors college at Lincoln center with a double major in Film/TV and Creative Writing. After matriculating in May they'll be continuing their education at Edinburgh Napier University where they'll study Screenwriting. Her work here and her honors thesis both explore television as a window into cultural studies.
Title of Research: The Glass Ceiling as the Fourth Wall: Satirizing Sitcoms to Challenge Traditional Gender Dynamics
Mentor: Dr. Meensurani Murugan, Department of Communications
Abstract: A sitcom, simply defined, is a situation comedy. In US television, this can include a range of shows from 1950s programs such as Leave It to Beaver (CBS 1957–58; ABC 1958–63) and I Love Lucy (CBS 1951-57) to more recent shows like Modern Family (ABC 2009-2020) and Friends (NBC 1994-2004). Sitcoms can generally be recognized by their humor, recurring casts of characters, and frequent use of multi-camera filming techniques. Domestic sitcoms concern themselves with home and family life, generally of nuclear American families. By using traditional American values as its core iconography, domestic sitcoms draw an immediate line to white nuclear families with traditional gender roles. Thus, sexism is so central to the core of domestic sitcoms that even in the years that have passed since the first programs, most themes endure.
Since sexism is so central to domestic sitcoms, parodies of domestic sitcoms function as spaces for critiques of American gender roles. Parodies have the power to turn any convention of the genre on its head and use it to pointedly push the conversation forward. Parodies shift the signifier from "American Ideals" to "American Ideas," stripping away the idolization of tradition to reveal its oppressive underbelly.
To aid in my exploration of these themes I will draw particular attention to I Love Lucy, Leave it to Beaver, Pleasantville (1998, Ross), and Kevin Can F**k Himself (AMC 2020- present).