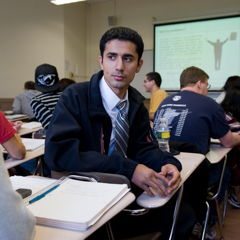 A business degree program designed to meet the professional goals of the motivated adult student.
Fordham School of Professional and Continuing Studies (PCS) bachelor's degree in business for adult students focuses on real-world economic issues, accounting, management and marketing, and best organizational practices. Through this comprehensive business curriculum, Fordham's adult students develop the knowledge base and professional skills required for career advancement and achievement in a global business environment.
Our small class sizes, engaged faculty, and career and learning resources at three campus locations provide each student with the academic tools and flexibility necessary for success in today's business world.
Features of the bachelor's degree program in business
Evening, weekend and online courses
Merit and need-based financial aid
Generous transfer credit policies
Faculty members dedicated to advancing students' career goals
Fordham's extensive alumni network and career services programs
Program Requirements
The business major, augmented by Fordham's liberal arts curriculum, consists of five prerequisite courses and 12 business courses, several of which also satisfy requirements of the Fordham University Core Curriculum.
The Bachelor of Arts in Business in the School of Professional and Continuing Studies has the following learning objectives:
Demonstrate competency in critical thinking skills.
Demonstrate a capacity for ethical decision making.
Demonstrate an awareness of the Global/Multicultural/Inclusive perspective of Business.
Demonstrate effective written and verbal communication skills.
Demonstrate an understanding of leadership practices and effective methodology.
This bachelor's degree program is available at the Westchester campus.