Degree Options: Major, Minor
Locations: Rose Hill
Visit the Chemistry Department
We call it "the central science."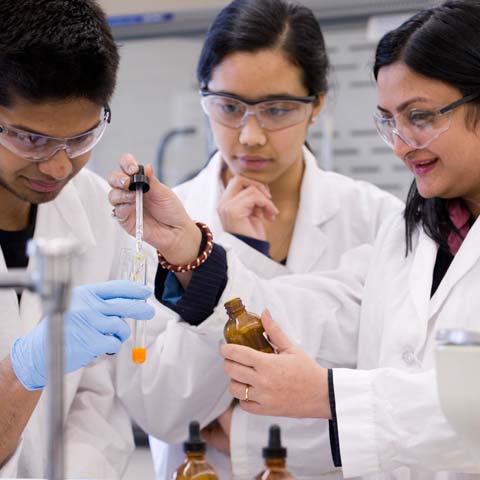 Chemistry is the study of matter: its properties, structures, and changes. It's the common link between virtually every science, including astronomy, physics, biology, and geology. If you think about it, everything involves chemistry. And we think about it with rigor and creativity here at the Department of Chemistry at Fordham, an American Chemical Society approved program.
You get a solid foundation in modern chemical theory through rigorous coursework and hands-on laboratory experience. You'll use state-of-the-art instrumentations to understand organic, physical, analytical, inorganic, and biochemical. You'll join faculty mentors in ongoing research projects—and by junior and senior year, you'll be able to present and publish your research.
You will learn to work independently, develop scientific writing skills, engage in responsible and safe work habits, and get trained in the use of state-of-the-art instrumentation.
Get published as an undergraduate? It happens routinely in the chemistry department at Fordham. Research conducted in our department appears in peer-reviewed journals and at scientific conferences all over the U.S.
But you'll learn more than chemistry. You'll also study philosophy, theology, history, mathematics, languages, and the performing arts through Fordham's common core curriculum, the centerpiece of our liberal arts education. We want you to excel in your field—and as a human being.
Chemistry majors work with 12 full-time faculty to study:

Organic chemistry
Physical chemistry
Analytical chemistry
Inorganic chemistry
Biochemistry and structural biology
Materials, surface and polymer science
Energy and environmental chemistry

Facilities

The Chemistry Department uses modern instruments for hands-on laboratory learning and—as you advance through the program—self-directed research mentored by faculty and assisted by two laboratory technicians.

Electron Microscopy
High Field Nuclear Magnetic Resonance Spectrometry
High-resolution Mass Spectrometry
Electronic and Infrared Spectroscopy
Surface Enhanced Resonance Raman Spectroscopy
Chromatographic and Separations Methods for Polymers
Computational Chemistry and Structural Analysis of Proteins

We strongly believe in learning through research. Some ways Fordham supports your scientific inquiries:

Fordham College at Rose Hill (FCRH) Grants:

Undergraduate research during the academic year and in the summer
Travel for students presenting research at a professional conference

Undergraduate Research Symposium where all majors and programs can present original work. Cross-pollinate: it's a great opportunity to share research across disciplines and generate new lines of inquiry.

FCRH Undergraduate Research Journal

The student-run Fordham Undergraduate Research Journal features high-quality, peer-reviewed, original research conducted at Fordham by undergraduate students and recent graduates in the sciences, humanities, and social sciences.

Faculty work closely with chemistry majors to apply for summer internships at research facilities, universities, hospitals across the U.S. in programs supported by the National Science Foundation, the American Chemical Society, and other leading scientific organizations or institutions.

Fundamental Courses
General Chemistry Lab I & II
Organic Chemistry I & II
Quantitative and Instrumental Analysis
Physical Chemistry I & II
Inorganic Chemistry
Biochemistry I

Advanced and Topical Courses:
Biochemistry
Biomimetic Chemistry
Methods of Chemical Research
Computational Chemistry
Materials Science

Fordham chemistry graduates have successfully pursued advanced graduate study or professional schools in education, health, business and law, while others jump right into careers.

The future is bright for chemistry majors because there are so many sectors where a strong knowledge of modern chemical theory and practice is highly valued, including:

Biotechnology
Pharmaceutical chemistry and drug design
Chemical and biomedical engineering
Materials science, polymer science and nanotechnology in the arts
Environmental science, regulatory and public policy
Energy and fuel research
Optical and electronics research
Forensic science
Art conservation
Patent law
Technology and chemical product management