Degree Options: Major, Minor
Locations: Rose Hill (Major, Minor), Lincoln Center (Minor)
Visit the Marketing Department
Creative, persuasive, and insightful? Think marketing.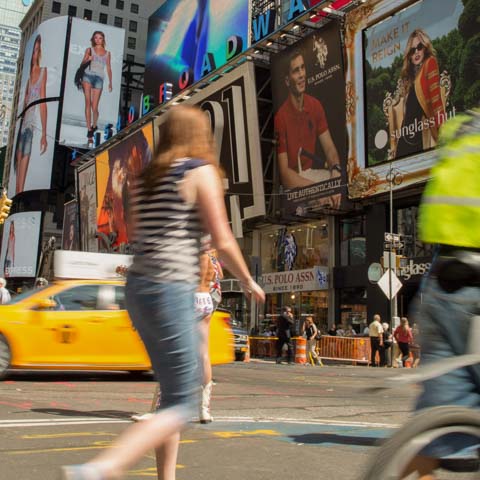 What is a product? Is it an object you hold in your hand? Can it be a financial instrument, ream of data, creative concept, or political idea? All of the above. Organizations in banking, securities trading, technology, charity, government, the media, healthcare, education and politics all market their products. As a marketing major at Fordham's Gabelli School of Business, you'll learn how to make messages that move products—no matter what they are.
We designed the marketing major for creative thinkers with broad interests—key characteristics for success in the field. You'll study the how and the why of consumer buying habits through economics, psychology, sociology, anthropology, statistics, and mathematics. You'll study distribution, pricing, and preparation of goods and services. And you'll develop the communications tools you need to reach people.
Our program is loaded with opportunities to apply the concepts you learn. The leadership program brings marketing executives to Fordham to work with you on everything from case studies to job fairs. You can travel to Kenya in our Fair Trade course to meet artisans and manufacturers whose products you'll market and sell in the U.S.
The Gabelli School of Business is considered one of the top business schools in the U.S. for a reason. (For a lot of reasons.) Our dual core curriculum—half business, half liberal arts—makes Fordham business graduates unique: knowledgeable about global commerce, but also keenly aware of the human factor in every deal. We want you to excel in your field—and as a human being.
As a marketing major, you take 10 classes—a mix of required and elective courses in marketing, plus two electives in business or liberal arts.

There are four tracks:

Market Research
Product Management
Advertising
International

We also offer a cutting-edge concentration in marketing with a focus on consumer insight, where you'll parse the why of consumer buying habits through marketing, psychology, sociology, and anthropology.

Internships

World-class internships at top global companies in every industry are just a subway ride away. Most Gabelli students graduate with multiple internships on their résumés. Companies include:

Goldman Sachs
Sumitomo Mitsui Banking Corporation
KPMG
Ernst & Young
MTV/Viacom
Lord & Taylor

More than 75 percent of Gabelli graduates who got job offers before graduation reported that their internship led directly to the full-time spot.

Our Marketing Leadership Program is a complete slate of career-preparation activities and seminars tailored for juniors and seniors ready for a job in marketing. We offer:

Leadership forums led by professional marketers
Practitioner workshops focused on real-world case studies
Professional development workshops covering everything from landing internships to effective networking
Individual coaching and advising sessions with the department's dedicated pre-professional advisor, Gina Hill LoBasso
Marketing mentoring program that provides a full year of professional guidance

Travel to Kenyan villages to meet the artisans and producers whose merchandise you'll market in the United States as part of the Fair Trade course. You'll write marketing plans, connect Kenyan small businesses with American consumers, and sell their products both online and in shops—everything from chocolate bars to soapstone carvings.

Study Abroad

Take your coursework global through Fordham's International and Study Abroad Program. Fordham has connections with more than 150 programs in universities all over the world, including Germany, China, Turkey, Argentina, and the Gabelli London satellite campus.

Honor Society

We host a chapter of the American Marketing Association's national marketing honor society for undergraduate, graduate, and doctoral marketing students, and marketing faculty.

Consumer Behavior
Integrated Marketing Communications
Retailing
Global Marketing
Marketing in Pacific Rim
Marketing Administration
Entertainment Marketing
Data-Driven Marketing
Sports Marketing

You'll graduate with a marketing degree well prepared for a range of careers in:

Advertising
Brand and product management
Direct and interactive marketing
Market research
Marketing careers in service industries
Public relations
Retailing
Sales and sales management

Our career services tap Fordham's ties with more than 3,500 companies. We offer:

Post-graduation career search
Resume development, Interviewing practice
Networking skill development
Hands-on case-study sessions with industry executives
Field-specific advising/coaching

You also get access to our powerful (and Fordham-loyal) network of alumni, who want to see you succeed as they have.