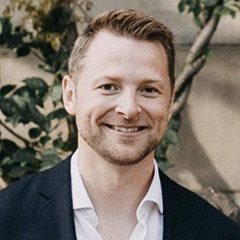 Jason Laenen, MSMM '08
Where are you working now?
I am an account executive at Viacom.
Why did you choose the Gabelli School MSMM program?
After doing my research, choosing Fordham became a no-brainer. I knew that the school offered a singularly unique program with classes taught by a healthy mixture of industry professionals and well-regarded media scholars on a campus situated in the heart of Manhattan, the media industry's epicenter.
What was the best part of your experience at the Gabelli School?
The people were the best part of my experience. I worked alongside so many bright, successful people in my classes, and we were taught by world-class professors who were eager to help us both inside and outside the classroom.
Were you involved in any activities while at Fordham?
I was a member of the Media and Entertainment Alliance. I would encourage any new students to get plugged into these types of programs, as they help you get to know people who share your (sometimes very specific) interests.
---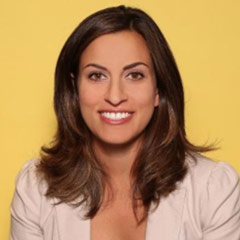 Meredith Louise "Weesie" Vieira, MSMM '12
Where are you working now?
I am the founder of Cadette Public Relations.
What was your most meaningful learning experience at Fordham?
I gained a lot of experience in giving presentations, because every single class required it. These skills have definitely come in handy in my career. Also, having to work in groups with people from a variety of backgrounds and areas of business was valuable, since that's a very real everyday part of business.
What was the best part of your program?
I very much value the relationships that I have built with some of my professors since graduating from the program. Some of them have been great business connections for me, as well as friends and mentors, and I'm very thankful for that.
What was your favorite class at Fordham?
Consumer Adoption of New Media was a great class. We got to develop and pitch business ideas from the ground up, work with teams to develop business plans, learn how to pitch investors, create wireframes for our products, and more. It was an extremely useful class.
---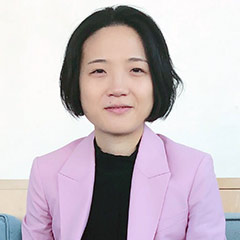 Weihua Liu, MSMM '15
Where are you working now?
I am in business development at China Market.
Why Fordham?
The Gabelli School's MSMM program was exactly the program that I was looking for, with excellent professors and a great reputation.
What was the best part of the MSMM program?
I found that the courses were very challenging. I enjoyed being challenged, as it is an exciting experience which forces you to learn harder and grow better.
How has the MSMM program been helpful in your current job?
The MSMM program helps me to think in a broader perspective when I approach daily work and different projects, which has been helpful in my current position.