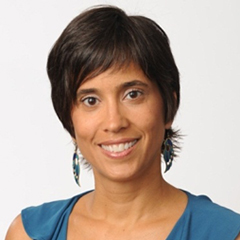 Karla G. Sanchez, LAW '95
Karla G. Sanchez was the executive deputy attorney general for economic justice for the New York Attorney General's Office responsible for the AG's agenda on all issues involving antitrust, consumer frauds, the Internet and technology, investor protection, and real estate finance.
Prior to joining the office, Sanchez was a litigation partner at Patterson Belknap Webb & Tyler LLP. She successfully litigated before courts and arbitration panels throughout the country, representing both plaintiffs and defendants involving a broad range of products and disciplines, including residential mortgage-backed securities, pharmaceuticals, medical devices, and consumer products. She was the first Hispanic partner at Patterson Belknap, and has been recognized as one of Crain's New York Business's "40 Under 40." Sanchez served as law clerk to the Honorable Deborah A. Batts, U.S. District Court for the Southern District of New York. She received her J.D. from Fordham University School of Law cum laude and Order of the Coif, and an A.B. from Columbia University.
Sanchez is the co-founder of an informal networking group for Hispanic women attorneys called the Cafecitos, which counts almost 900 members. She is also the co-founder of an informal networking group for law firm partners and senior in-house counsel.
Sanchez is a former member of the policy committee for the departmental disciplinary committee of the first department, and the executive committee for the New York City Bar. She is the former vice chair of the Board for LatinoJustice and a former member of the advisory board of Legal Outreach. A Dominican Bar Association Honoree, she is also a recipient of the New York City Bar's Diversity & Inclusion Champion Award and the Puerto Rican Legal Defense and Education Fund's Lucero Award.