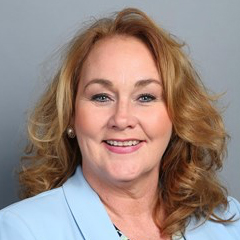 Marianne Reilly, GSE '98
Marianne Reilly returned to her alma mater, Manhattan College, as director of intercollegiate athletics in 2016. Reilly was one of only 39 female intercollegiate athletic directors out of 351 NCAA Division I schools at the time of her hire. She arrived with a diverse portfolio of work in collegiate athletics administration after spending three decades at Fordham University, where she began her career as an assistant in recreation, facility management, and club sports. She was elevated to associate director of athletics in 1996 to accompany her responsibilities as the senior woman administrator for the Rams' athletics department.
At Fordham, Reilly served on the leadership team of the athletics department and supervised NCAA compliance, academic eligibility, and athletic training while also serving as a sport administrator for a number of varsity programs. She mentored coaches, administrators, and student-athletes and oversaw the successful development of the women's basketball and softball programs.
A graduate of Manhattan College with a degree in physical education, Reilly was the first woman inducted into the school's Athletic Hall of Fame and the first 1,000-point scorer in program history. In 2014, she was inducted into the Metro Atlantic Athletic Conference Honor Roll at the Naismith Memorial Hall of Fame in Springfield, Massachusetts.
Reilly had two stints as an NCAA coach: as an assistant coach at Fordham University and as head coach at the College of Mount Saint Vincent. A former teacher in the local public and Catholic schools in New York City, Reilly earned a master's degree in education and administration from Lehman College, and a professional diploma in administration and supervision from Fordham University's Graduate School of Education. She currently serves on the board of trustees at Saint Barnabas High School in the Woodlawn section of the Bronx.
Reilly and her husband, Tom Delaney, live in Tuckahoe, New York.