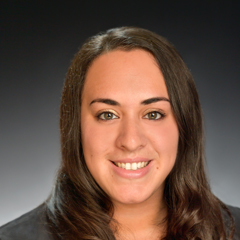 Morgan Vazquez, FCRH '13
Morgan Vazquez is the vice president of campus strategy and pipeline development at the Bank of New York Mellon (BNY Mellon) in New York City. Since joining the firm in 2015, Vazquez has led the redesign of campus strategy with a focus on recruiting, developing, and retaining a strong pipeline of future leaders. She currently oversees all campus pipeline development programs globally at both the intern and analyst levels, including the Summer Analyst Program, Emerging Leaders Program, and Technology Leadership Program.
On top of her assigned responsibilities, Vazquez remains a dedicated company brand ambassador and champion of diversity and inclusion. In 2016, she was named one of two recipients of the BNY Mellon HR Star Award for consistently exceeding expectations, delivering excellence, and cultivating a high-performance, collaborative team culture. In 2018, Vazquez received the Harlem YMCA Achievers in Industry Award for Outstanding Achievement and Leadership Excellence as well as the Selective Corporate Internship Program Partnership of the Year Award.
Prior to joining BNY Mellon, Vazquez spent six years at JPMorgan Chase in a variety of human resources roles, including compensation, HR business partner, and employee relations. She began her tenure at JPMorgan Chase through the firm's Smart Start Program, which awarded her a full scholarship to Fordham University and a four-year paid internship while completing her studies. Vazquez remains active in "all things Fordham" and recently served as chair of the Young Alumni Committee during the University's 175th anniversary. She is also a member of the Young Alumni President's Club.
Vazquez is passionate about mentoring and developing young talent outside the office, and currently serves as president of the National Society of High School Scholars (NSHSS) Fellows Program. An NSHSS scholarship recipient in 2009, she sponsors an Emerging Leader Award/Scholarship as a way to give back to current members.