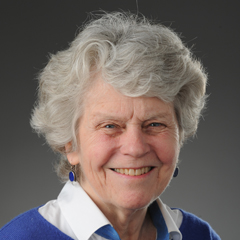 Sandra G. Turner, GSS '75
Sandra G. Turner is an associate professor and former associate academic dean (2004–2014) at Fordham University's Graduate School of Social Service. She received her B.A. from Northwestern University, M.S.W. from Fordham, and Ph.D. from Rutgers University. After joining the faculty at Fordham's Graduate School of Social Service in 1989, she taught courses in foundation practice, advanced clinical practice, and substance abuse, as well as the Advanced Clinical Integrative Seminar.
Turner has been a member of the Fordham Institute for Women and Girls since its inception in 2001, and has been the director of the institute for the past two years. She served as a faculty liaison and trainer for the Mentoring Latinas program from 2003 to 2016, and has been the director of the program for the past year.
Before becoming a professor, Turner worked for 15 years as chief of outreach and then assistant chief of the Outpatient Alcoholism Clinic at St. Vincent's Hospital in New York City.
Turner's research interests have centered on issues related to the prevention of substance abuse (she was co-investigator of a five-year million-dollar grant from the New York State Office of Substance Abuse); women and substance abuse; sexual abuse; feminism and empowerment; and forensic social work. Most recently she has been working on a research and mentoring project involving Hispanic adolescent girls. She has published more than 20 articles and several book chapters on these issues.