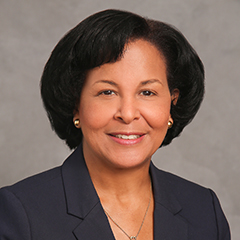 Patricia A. David, GABELLI '81
Patricia A. David is the senior diversity adviser for JPMorgan Chase. She provides strategic advice to the firm on a wide range of diversity topics affecting the work environment, and to the heads of the Talent Management & Diversity and the Advancing Black Leaders & Diversity Advancement Strategies programs. She is a member of the JPMorgan Chase Diversity Council, and, in collaboration with key business leaders, helps communicate diversity and inclusion efforts within the organization through various means.
Upon joining the firm in 2010, David served as head of diversity for seven years, leading diversity and inclusion efforts across four global regions. With responsibility for developing and implementing practices aligned with the firm's business strategy, she also tracked and reported on the return on investment of initiatives and had oversight with the human resources community to implement affirmative action plans for regulatory compliance.
In this and her current role, she has been an instrumental leader across diversity and talent management efforts, diversity councils, business resource groups, and Leadership Edge (management training), and was a driving force to launch the Advancing Black Leaders strategy and the office of Disability Inclusion. She brings a passion and personal touch to her work that is valued by colleagues at all levels.
A strategic thought leader on behalf of several diversity organizations, David is a member of the firm-wide Black Executive Forum and the Executive Leadership Council. She has been featured in various publications and has received numerous awards. David received an honorary doctorate of humane letters from Fordham University's Gabelli School of Business in 2016. Three years ago, in recognition of her academic and professional accomplishments, the Gabelli School created the Patricia David Trailblazer Award, presented annually to a female graduating senior who has demonstrated a dedication to inclusiveness in the business world.