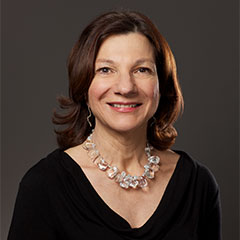 Roberta J. Garland, TMC '73
Roberta J. Garland was born in the Bronx and attended Villa Maria Academy, a private all-girls Catholic school, from kindergarten through grade 12. Her ties to the Villa are still strong as she is currently a member of the board of trustees of what is now a pre-K through grade 8 co-ed school. It was at the Villa that her love for math was nurtured, most emphatically by a high school calculus teacher who would regularly present a theorem, then the proof, and declare, "Don't you see the beauty in math?"
Fordham was a natural fit with its strong math and science curriculum balanced by extensive requirements in the humanities, including philosophy and theology. After earning a B.S. in mathematics, Garland pursued a career as an actuary, a professional whose expertise lies in evaluating the likelihood and financial cost of future contingent events, using analytical and statistical tools.
After beginning her career in New York, Garland moved to California with her twin boys to take a position at a prestigious insurance company just miles from the Golden Gate Bridge. From there she moved into consulting with one of the largest accounting firms in the country and then founded her own firm in 2002.
Garland serves on Fordham University's President's Council. The topic of her panel at the 2018 Women's Philanthropy Summit has special appeal for her. Becoming a fully credentialed actuary requires passing a series of 10 highly competitive exams while working at a full-time job. Maintaining a balance between caring for children, pursuing a career, taking exams, and having some personal time has always been a challenge. In addition, the field has been heavily male-dominated, with historically few options for flexible work arrangements. The current work environment is more welcoming to mothers with children, but there is still a long way to go. Garland sees the ongoing struggle to maintain a work–family balance while observing the experiences of her own daughters-in-law with toddlers.