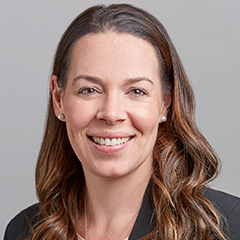 Beth Savino, GABELLI '03
Beth Savino, a partner in the asset management practice of PwC based in New York City, has more than 15 years of experience specializing in audits of financial services entities. As the company's U.S. Exchange Traded Funds practice leader, she also serves as the partner for the audits of mutual funds, exchange traded funds, private equity funds, hedge funds, insurance company separate accounts, and hedge fund of funds.
Her specific experience includes accounting and valuation for investment instruments such as swaps, forward foreign currency contracts, futures, options, mortgage-backed securities, loan participations, high yield securities, principal/interest only securities, and foreign securities.
Savino earned a B.S. in accounting from Fordham University's Gabelli School of Business. While at Fordham, she was a member of the Division I women's soccer team. She is a licensed CPA in the state of New York and a member of the American Institute of Certified Public Accountants. She also serves on the board of the Manhasset Soccer Club.
Savino lives with her husband and three children on Long Island, New York.