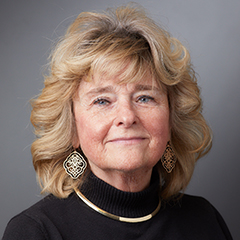 Margaret J. Bia, M.D., TMC '68
Margaret Johnson Bia, M.D., was part of the first graduating class of Thomas More College, Fordham University, in 1968. After graduation, she married fellow Fordham graduate Frank Bia in the University Church. They attended Cornell Medical School together, followed by training in internal medicine at the Hospital of the University of Pennsylvania. They then joined the faculty at Yale University School of Medicine, where they have spent their careers. The couple have two sons.
At Yale, Bia has been recognized for her excellence in medical education; leadership in transplantation and education; and advocacy for women's issues. A self-taught transplant specialist, she was the first director of transplant nephrology (1984–2001). Honored with the "Pioneer in Transplant" award from the National Kidney Foundation in 2004, she was the first woman invited to join the Nephrology Board of the American Board of Internal Medicine (1996–2002) and served for 11 additional years on the organization's Self-Assessment Nephrology Committee.
In medical student education, she has had multiple roles. The one of which she is most proud is as creator and director of the clinical skills program (2001–2014), in which 170 physicians participated at the time she left the position.
Bia has received numerous teaching awards at Yale, including the Bohmfalk teaching prize for clinical sciences; the Francis Blake teaching award (twice); the dean's award for exceptional contributions to the school; the Leah Lowenstein teaching award (twice); the AAMC Humanism in Medicine Award; and the House Staff teaching award. Most recently, she was honored with a named teaching prize, the Dr. Peggy Bia Award for Outstanding Clinical Teaching, given to residents by the third-year class for outstanding teaching on the Internal Medicine Clerkship. She has authored more than 100 peer-reviewed publications and book chapters and has been included among Castle Connolly "Best Doctors in America" since 2007.