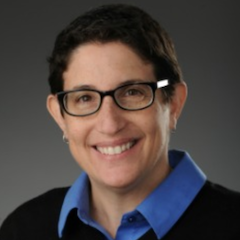 Associate Professor
Bio:
Laura Wernick is an Associate Professor at the Fordham Graduate School of Social Service. Dr. Wernick's scholarship examines how transformative organizing models creatively address issues of power, privilege and oppression at multiple levels to impact social change while transforming people's daily lives. Grounded in their practice experience, Dr. Wernick uses participatory action research to investigate innovative organizing models among youth (e.g. LGBTQ* youth, low-income youth of Color), young adult activists with wealth, and those who employ or use the services of domestic workers.
Publications:
"Ortega-Williams, A., Wernick, L.J., DeBower, J. & Brathwaite, B. (In press). Finding Relief in Action: The intersection of youth-led community organizing and mental health in Brooklyn. Youth & Society. https://doi.org/10.1177/0044118X18758542
Kulick, A., Wernick, L. J., Woodford, M.R., & Renn, K. (2017). Heterosexism, depressions, and campus engagement among LGBTQ college students: Understanding intersectional differences and potentials for collective healing. Journal of Homosexuality, 64(8), 1125-1141.
Wernick, L. J. (2012). Leveraging privilege: Organizing young people with wealth to support social justice. Social Service Review, 86 (2), 323-345."