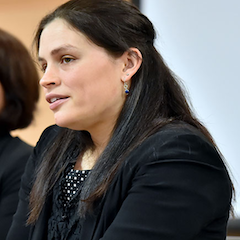 Associate Professor
Bio:
Rebecca Sanchez is associate professor of English at Fordham University where she also co-directs the disability studies program and the faculty working group on disability. Her first book, Deafening Modernism: Embodied Language and Visual Poetics in American Literature, was published in 2015 with New York University Press and in 2016 she co-edited the republication of Pauline Leader's And No Birds Sing (Gallaudet University Press). She was a recipient of a 2015-16 AAUW American fellowship, and her work on disability, modernism, and poetics has appeared in numerous journals and edited collections.
Publications:
Sanchez, Rebecca. "Doing Disability With Others." Negotiating Disability: Disclosure and Higher Education. Ed. Stephanie L. Kerschbaum, Laura T. Eisenman, and James M. Jones. University of Michigan Press, 2017. 211-225.
Sanchez, Rebecca. "Rejecting the Talkies: Charlie Chaplin's Language Politics and the Future of Deaf Studies in the Humanities." Innovations in Deaf Studies. Ed. Annelies Kusters, Maartje De Meulder and Dai O'Brien. Oxford: Oxford UP, 2017. 151-166.
Sanchez, Rebecca and Mara Mills, eds. And No Birds Sing. Pauline Leader. Washington DC: Gallaudet University Press, rpt. 2016.